Titan Cranes Ltd, Titan Plant Services Ltd, Titan Holdings Ltd and Titan Construction Equipment Ltd.

1960 - 1970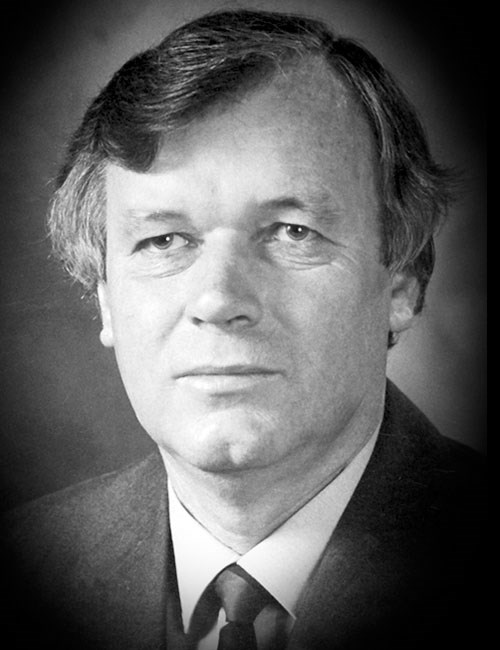 1965 The Titan organisation began trading on 1 October 1965 when Max Whiley purchased the Titan Plant Services Division from Wilkins and Davies Construction Co Limited. The main business of the newly formed company was crane hire and the buying, selling and reconditioning of used plant and equipment. 
Company owner Max Whiley and five business associates: Bob Burnett (transport operator and contractor, Ashburton), George Lemmon (piling contractor, Lower Hutt), Bert Martyn (contractor, Timaru), Jack Tidd (transport engineer, Hamilton) and Ray Vincent (transport equipment and parts dealer, Auckland) were the first directors and shareholders of the new business. Bob Burnett was appointed chairman on 5 October 1965.  He held this position until he passed away in 1983.
The initial crane fleet consisted of five cranes: 16.9 tonne NCK205 truck-mounted lattice-boom crane, 7.5 tonne Michigan lattice-boom crane, 7.5 tonne Austin Western 210 hydraulic crane; two 5 tonne Allen T6K lattice-boom cranes; and 2.5 tonne Khoering lattice-boom crane.
Nine Wilkins & Davies staff joined the new company in 1965, including Colin Worsfold (Assistant Manager), Jim Tomlinson (workshop) and Frank Wicksteed (workshop). 
The first company secretary and financial adviser was Hugh Palmer, a partner in the public accountancy firm of Watkins Hull Wheeler & Johnston.   
1966  Titan leased, and eventually purchased, a 30 tonne capacity Jones strut boom crane from Aveling Barford.  At the time this was one of the largest cranes in the country. 
1967 Ray Vincent (director and shareholder) and Hugh Palmer (company secretary) died.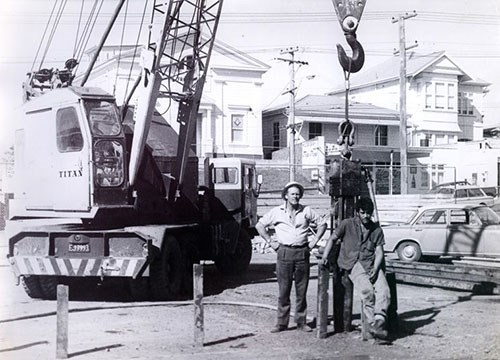 David Kay, another Watkins Hull Wheeler & Johnston partner, became company secretary on 18 December.  He held this position until 1976 when he became a director of Titan.
1968 John Carter was employed as the accountant.  He had worked at Watkins Hull Wheeler & Johnston where he had been responsible for the Titan accounting procedures.
1970 - 1980
1970 Titan bought the Wainuiomata Tunnel land at Gracefield, Lower Hutt, deemed to be a suitable site to relocate to when the Port Road lease expired. The land was sold in 1973 following the purchase of the Port Road land.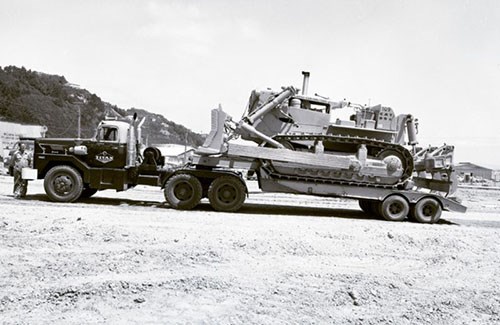 The company purchased its first truck-mounted hydraulic crane, a Coles Hydra 150T, 15 tonne capacity. It was mounted on a carrier manufactured in the company's own workshop.
Gordon Stone began working as a fitter in the Lower Hutt workshop.
Dick Dore, formerly of the Titan Plant Services division, Wilkins & Davies, started work as the crane dispatcher.
1971 In July, Titan bought the land in Port Road, Seaview, which is now the site of its Head Office and Wellington branch operation. 
In September, the company was allocated a one-third share in the newly established Fiji Crane Hire Company, Titan Pacific Limited. 
1972 A Talurit press purchased from John Shaw (NZ) Ltd resulted in the establishment of a wire rope and materials handling division to service the company's own cranes and to provide a service to the public.
In September a new Aveling Barford Master Pavior model GNR road roller was purchased for general hire.  At one stage Titan owned a hire fleet of six such rollers. These were eventually sold to concentrate on the crane hire business.
Max Whiley made the first of several trips to Singapore to attend USA Army sales of surplus equipment from the Vietnam War.  He bought a number of items including Galion cranes for the hire fleet and entered into some joint venture deals with good friend Barny Barns, owner of Lion Machinery in Rotorua.
1973 The company purchased its first large capacity crane - an NCK 1405 crawler crane of 70 tonne capacity.
The Wainuiomata Tunnel land was sold.  The neighbouring engineering workshop was bought which expanded the Port Road property.
1974 Titan opened a crane hire branch in New Plymouth to service the developing oil and gas industry.  The company had been hiring cranes in Taranaki on long-term dry hire basis for a couple of years on contracts associated with the development of the Kapuni gas field.  Jim Tomlinson transferred from Lower Hutt in early 1975 to manage the branch.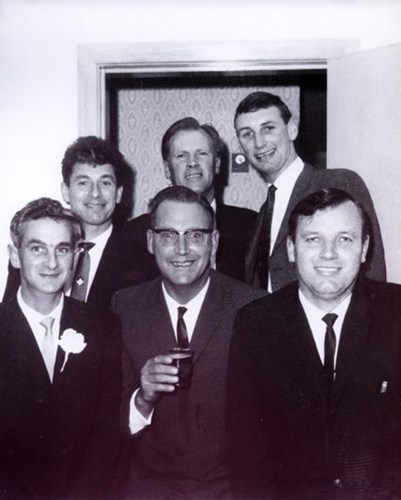 1975 Max Whiley and John Carter were instrumental in establishing the (PCA) Power Crane Association of New Zealand, now the Crane Association of New Zealand. Max was elected the first president.
Titan's involvement with the PCA has been continuous since its inception, with staff having served on the council and other related industry committees. Graeme Haugh, Gordon Stone and John Carter all served as president and Russell Richardson was a council member.
1976 Titan was awarded its first significant crane hire contract – the supply of all cranes for the construction of the Shell BP and Todd Oil Services Limited, Oaonui Gas Production Station. 
The shares in Titan Pacific Limited were sold ending the company's involvement in Fiji.
John Carter replaced David Kay as company secretary upon the latter's appointment as a director.
1977 The crane-hire division became part of a newly-formed company Titan Cranes Limited which started trading in October 1977.  
Titan Cranes purchased a Grove TM875 crane of 73 tonne capacity. This was the largest capacity hydraulic crane in New Zealand at that time.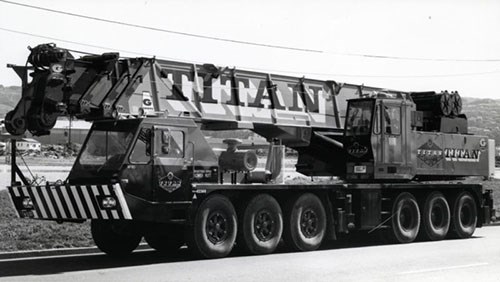 1978 Titan Plant Services became the first New Zealand agency for the Harnischfeger Corporation, the US manufacturer of P&H cranes.  This was the first equipment agency acquired by the company and signalled a new era in its activities.
A new 73-tonne capacity crane Grove TMS875 hydraulic mobile crane was purchased. This was the largest mobile crane on the road in New Zealand and became the backbone of the fleet for many years.  The crane was initially operated by Eddie Burkhardt who later became operations supervisor in Lower Hutt and then New Plymouth branch manager.
Graeme McPhee joined Max Whiley and Norman Eaden to assist in the sale of the used equipment. He had previously worked for Kato crane agent Jas J Niven as manager of the construction equipment division.
1979 Titan purchased the crane hire division of Roebuck Construction in New Plymouth on 13 February. Roebuck's crane supervisor Russell Richardson joined the Titan Cranes' staff.
The Christchurch branch of Titan Cranes was established with the purchase from Ceramco of all assets of the Christchurch crane hire company - Nuttall Cranes Limited. Graeme Haugh, formerly Nuttall manager for Ceramco, was appointed manager of Titan's Christchurch branch. 
Gordon Stone transferred to Christchurch to look after the crane maintenance and assist Graeme Haugh.
1980 - 1990
1981 The Cranemaster Safeload Indicator was developed.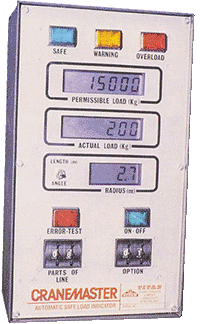 This safety device for cranes is now widely used on all types of cranes in New Zealand, Australia, Asia and the Pacific Islands.
1982 Titan Cranes in a joint venture with Sparrow Crane Hire UK was awarded the contract to provide large-capacity cranes and rough terrain cranes for construction of the Petralgas Methanol Plant at Waitara in Taranaki. 
A new Head Office building was constructed at Seaview in Lower Hutt to meet the demand of expansion to the business.
Max Whiley was awarded the first life membership of the Power Crane Association.
Owen Whiley joined the company's workshop staff in May after serving his engineering apprenticeship and progressing to leading hand with Acme Engineering. 
1983 In partnership with Fletcher Construction and Morgan Equipment Co of USA (FTM), Titan was awarded a contract by Bechtel to supply, operate, maintain and later sell the majority of the cranes and construction equipment required in the construction of NZ Synthetic Fuels Corporation gas-to-gasoline plant at Motunui in Taranaki.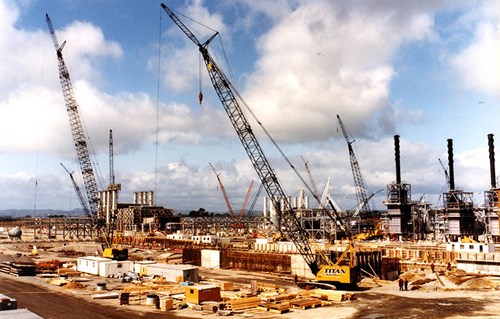 In its own rights Titan was awarded the contract to supply cranes to the UK firm, Davy International Projects to assist in the construction of reformers at Motunui. 
The company also acquired crane hire contracts at NZ Steel, Glenbrook and NZ Refining Marsden Point construction sites and other oil and gas projects in Taranaki. 
Titan Cranes purchased a 100-tonne capacity crawler crane.
John Finlayson joined Titan Plant Services as a fitter in the Lower Hutt workshop.
Bob Burnett shareholder, director and chairman passed away. David Kay became chairman.  David Kay admitted to being flattered by the appointment, commenting on "the very large pair of shoes" he was being asked to fill.
1984 Titan Cranes purchased the leasehold of the New Plymouth branch property. 
1985 The Auckland branch of Titan Plant Service was established at Wiri in Manukau City (the branch was relocated to Penrose in 1991 and Otahuhu in 1994).
Titan Plant Services sold its 100th P&H crane.  
Graeme McPhee and John Carter were appointed to the board as executive directors, positions held until 1998 when the board began a restructure that excluded executive directors apart from the managing director.
Peter Friedlander was appointed company accountant.
1986 Titan's Wire Rope and Materials Handling Division was sold to Cookes Consolidated Services Limited. 
Titan Plant Services acquired the Potain tower crane agency for New Zealand and was appointed New Zealand distributor for VME (Volvo Michigan Euclid) construction equipment products and VME Ranger log skidders. 
Land was purchased at Birmingham Drive, Christchurch and a new branch facility for both Titan Companies was built.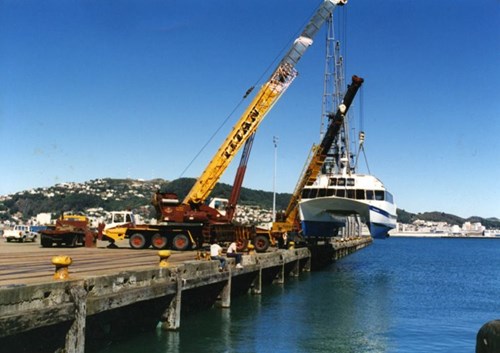 Dean McPhee began work as a crane operator with Titan Cranes after working on the Motunui project.
Titan Cranes was awarded a contract by the NZ Synthetic Fuels Corporation to supply cranes, operators and dogmen for the start-up and commissioning procedures at Motunui.  
Dick Dore retired after 16 years in Lower Hutt Crane dispatch. Dick kept in touch with the company for many more years, having enjoyed a close working relationship with Max Whiley and Titan prior to joining the company. Between them, Dick running the dispatch and Colin the branch, they were a formidable pair.
1987 As a follow up to the initial contract in 1986, Titan Cranes was awarded the contract to supply crane hire requirements for all maintenance work at New Zealand Synthetic Fuels Corporation gas-to-gasoline plant at Motunui. This contract is still held.  
Titan was awarded a contract to supply all crane hire requirements for Shell BP Todd Oil Services Limited work in Taranaki, a contract we still retain.
Titan Plant Services was appointed New Zealand agent for Franna cranes.
Graeme McPhee was appointed General Manager of Titan Plant Services.
Alex Swainson, formerly Managing Director of Downer & Co, was appointed to the board.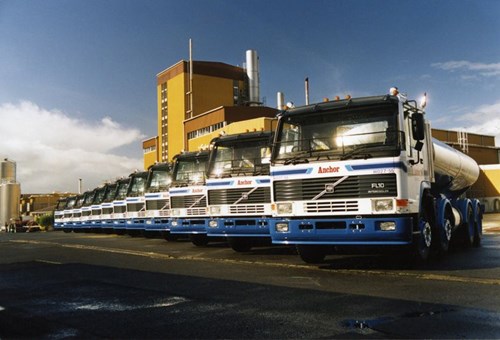 1988 Titan took over from its equipment distributor in Taupo and established a forestry equipment sales and service division to service the ever-growing forestry industry. Robin Ireland, Robbie Fitzsimmons and Kelvin Thurston, the original staff of the Taupo agency remained working for Titan until 2010 when this part of the company was divested.
Colin Worsfold, a "first day" employee of Titan, retired after 23 years' service with the company. Max Whiley, with a mechanical background himself, admired Colin's engineering mind and ability to make almost anything, whether by his own hands or by designing engineering solutions for others to make.
Titan became sponsor of the Lower Hutt Municipal Silver Band (later renamed Titan Hutt City Brass). The sponsorship ended in 2009.
1989 Titan Plant Services acquired the Volvo Truck and Bus agencies for New Zealand, initially running this division in Auckland before relocating it to Lower Hutt in 1991. Volvo product staff Neil Fenwick, Iain Fletcher, Robin Grigg and Leo Radovancich joined the Titan team. Both agencies were held until March 2009.
1990 - 2000
1990 Titan Plant Services became agents for Valmet forestry equipment.
Gordon Stone took over as Titan Cranes Christchurch branch manager upon Graeme Haugh's retirement.
Titan Cranes purchased East Christchurch Cranes Ltd on 16 November.
Shareholder and director George Lemmon died.
1991 The new sales office and national parts warehouse at Lower Hutt were completed.
Titan Plant Services signed distributorship agreements with Yanmar and Dynapac, and held these distributorships for 18 years and 15 years respectively..
Bruce Whiley started work in the engineering workshop after learning his trade at Acme Engineering.
Shareholder and director Bert Martyn died.
David Kay retired as chairman of the board. He was replaced by Alex Swainson but remained as a director 
1992 Titan purchased the assets of Owens Cranes (formerly Charlton Cranes) to establish the Auckland branch of Titan Cranes operating from premises in Penrose. The purchase included a sponsorship arrangement with Team New Zealand's ongoing involvement in the America's Cup. In 2006 and 2007, Titan provided a crane in Valencia, Spain for Team New Zealand's bid to win back the cup.
Russell Richardson transferred to Auckland to manage the new branch.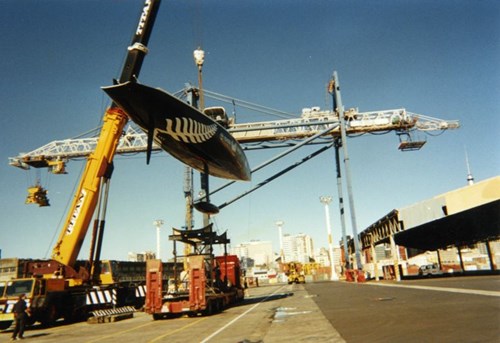 Titan Plant Services relinquished the P&H crane agency to take up the Kato crane and excavator agencies.
1993 The property in Otahuhu formerly owned and occupied by W Stevenson & Sons Limited was purchased.  Titan's Auckland branch was officially opened on this site on 29 June 1994 by Sir Peter Blake at the opening dinner.
Eddie Burkhardt was appointed Titan Cranes' New Plymouth branch manager.
1994 Titan Cranes Limited achieved ISO 9002 Quality Standard accreditation.
Max Whiley was made a life member of the NZ Contractors Federation.
1995 Taupo Crane Hire Limited was purchased to establish the Taupo branch of Titan Cranes.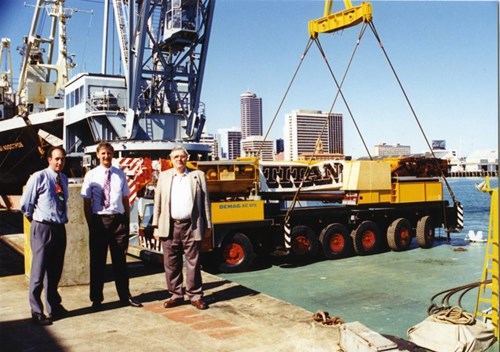 A 200 tonne capacity Demag AC 615 all-terrain crane was purchased by Titan Cranes.  This was the largest road legal crane in New Zealand.
Titan Cranes Lower Hutt branch manager Jim Tomlinson became health and safety manager for the Titan organisation.  Owen Whiley was appointed branch manager.
1996 Titan Cranes supplied cranes for the erection of New Zealand's first wind farm at Hau Hau near Martinborough in the Wairarapa.
New Plymouth branch manager Eddie Burkhardt and crane operators Don Dyason and Mel Schischka became the first people in New Zealand to gain the NZQA National Certificate in Crane Operation (mobile).
1997 Jan Coton (nee Whiley) started work in the truck sales office.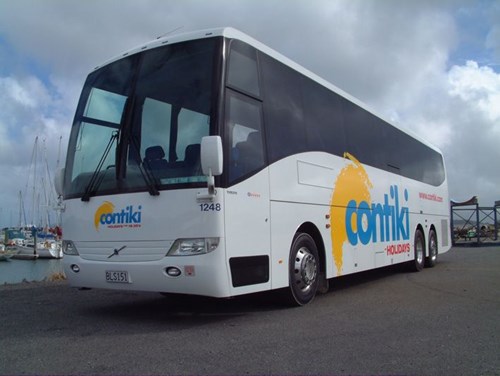 1998 Titan Holdings Ltd was established as the parent company to purchase the shares of the two trading companies and to provide administration support for the organisation.
Titan Plant Services took over the operation of Volvo truck and bus service dealer Transport Commercial (Auckland) Limited and established a truck and bus servicing facility at Onehunga, Auckland.
Gary Dobbs was appointed to the board.  Gary had an extensive financial background, working for UDC Finance for many years.
1999 Titan was appointed New Zealand representatives for Champion Road Machinery by Volvo Construction Equipment.
Eddie Burkhardt retired as Titan Cranes New Plymouth branch manager.
Chairman of the board Alex Swainson passed away.  Gary Dobbs took over as chair.
John Carter was made a life member of the Power Crane Association.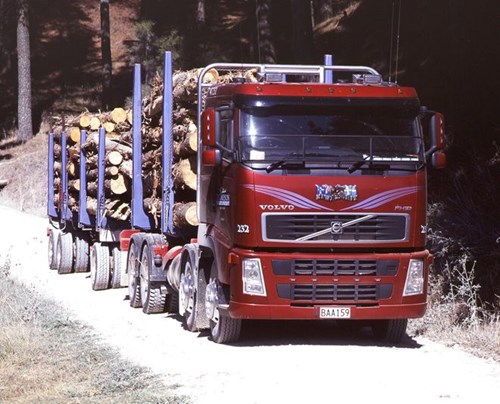 2000 - 2010
2001 Titan Plant's Head office in Lower Hutt and the Christchurch branch underwent further expansion and redevelopment to meet the growth in business.
A property was purchased in Dunedin to establish a branch for the sales company.
Jim Tomlinson retired after 36 years' service and Graeme McPhee retired after 24 years' service.
2002 Titan Cranes purchased the Dunedin branch of Boyd Cranes to establish an operation in the lower South Island.
Titan Cranes closed its Taupo branch.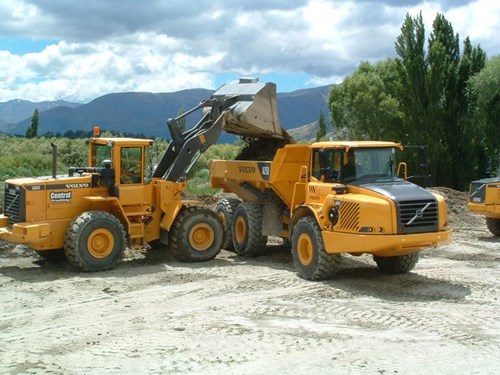 Trevor Tailor joined the Titan board while also holding the position of CEO at Outward Bound.
Titan Cranes purchased a Terex Demag AC300 300-tonne all-terrain crane.
Titan Plant Services opened a new purpose-built bus servicing depot in Mangere, Auckland.
2003 Max Whiley retired from the board of Contrafed Publishing Co. Ltd (publisher of Contractor magazine) after 27 years' service, the last 18 years as chairman.
2004 Titan Plant Services purchased the business of the Rotorua Truck and Bus parts and service dealer.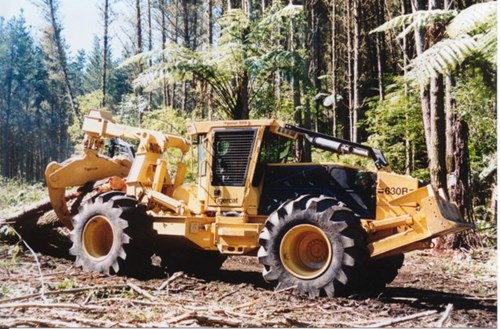 David Kay retired from the board after more than 36 years of working closely with the company.
2005 The Titan organisation celebrated 40 years in business in each major centre.
Titan Plant Services opened a depot at Silverdale in Auckland to service the Volvo construction equipment working on the motorway extensions.
Titan Cranes purchased Auckland-based business Linton Cranes.
A major building extension to the Lower Hutt head office, incorporating administration offices and new workshop facilities was completed by the end of the year.
Dan Williams from Deloitte's accounting company joined the board.
2007 Max Whiley, company founder passed away.  

Gordon Stone was appointed Chief Executive Officer of Titan Cranes.
2010 - Present Day
Titan Cranes' logo was redesigned, to modernise and simplfy, while keeping key elements of the well-known yellow and maroon fleet colours, and the small cog of the old logo.
The Titan organisation underwent extensive consolidation of business as a result of global recession in 2011.  The outcome included the sale of a major part of Titan Plant Services Ltd – sale of Volvo construction agency with Yanmar agency to Transdiesel in March.
The crane operations in Auckland, Tauranga and Invercargill were closed to concentrate on the four remaining key operations.


Titan renewed its emphasis on the crane business. A new board was established comprising Falcon Clouston (chairman), Jan Coton, Owen Whiley, Bruce Whiley.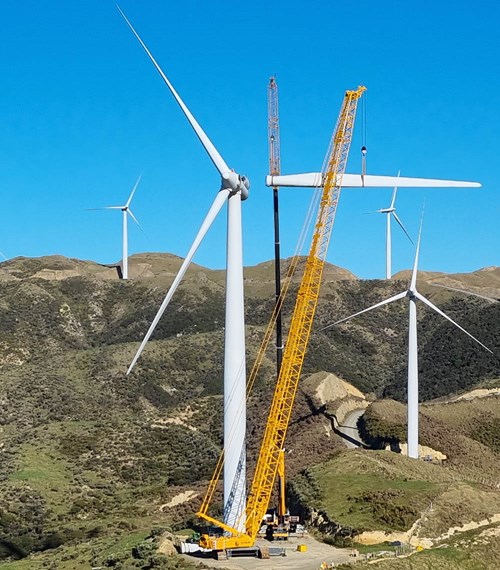 Titan Plant Services was renamed Titan Construction Equipment Ltd, or Titan Equipment for short.
While our name has changed, our commitment to providing top-quality equipment and services remains. We are proud to continue our partnership with the esteemed Kato Cranes from Japan, as well as the renowned Terex Franna Cranes from Australia. We are the exclusive New Zealand agency for these quality crane manufacturers.
Titan Cranes embarked on a significant upgrade of their crane fleet, aiming to expand its size, capacity, and configurations while also modernizing the entire fleet. As part of this endeavor, we expanded into crawler cranes of various sizes including the Liebherr LR1500 with a capacity of 500 tonnes pictured here.
Also adding more modern all terrain cranes including the  LTM1350-6.1 with a capacity of 350 tonnes and the 350 tonne Terex Demag AC350.