As you would expect for a company working in a high-risk industry our directors and managers are committed to ensuring that the right tools, equipment, and other resources are available to meet and exceed our health and safety obligations. We are a medium sized company, but small enough to know our people and their stories.  We focus on their safety because we know them, and we don't ever want to have to call a whanau, to say one of our team members has been seriously hurt.  Therefore, our major focus is always with that in the back of our minds.  Our annual safety goals are all about identifying the potential gaps around serious risk and how we do things and making improvements around those risks.
We engage our employees to tell us what they think needs to change so we can use that information to form our goals and make improvements to how we work.  We have found that it works. Where our team have been part of the planning, they are more likely to buy into changes.
Team members are important to us and we want them to genuinely feel that that is true.  We have taken a number of steps to offer ways for people to manage their health and wellbeing.  For example, life and income insurance for all staff, free medical checks and flu vaccines.  We encourage employees to let us know if they are experiencing mental health issues.  We also foster a culture where mental health issues are treated as any other ill health.  To assist us with this we have an outside provider of an employee assistance program available to provide a free and confidential service.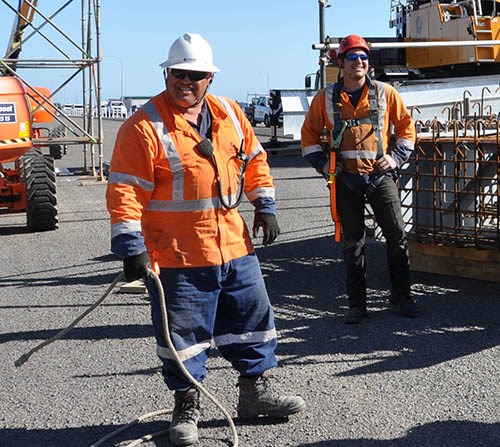 Another key area in our Health and Safety program is understanding the requirements of our clients and making sure that we follow the individual protocols of each client and each work sites safety rules. 
In recent years we have moved to providing all the operations team with a tablet device.  This means that they have up to date information about the job they are going to. Plans and other safety documents are attached to jobs, so they are readily available to the team on the day.  
The tablets also allow the team to do their daily Equipment checks and toolbox meetings electronically.  This has two advantages.  Firstly, it's very easy for the team to complete so the record keeping has improved.  Secondly it means there an up-to-date data base so that checks and meeting records can be viewed at any time, and Managers can ensure that they are being done daily and are completed correctly.